Is New Braunfels a Good Place to Retire?
The quick answer to the question, "Is New Braunfels a good place to retire?" is "Absolutely!" According to Topretirements.com, New Braunfels offers the best lifestyle for the money for senior citizens in central Texas.
New Braunfels is a popular choice for retirees for many of the same reasons it attracts a steady stream of tourists: rich German heritage, festivals, beautiful scenery, plenty of things to do, and easy access to excellent medical care.
Other advantages of choosing to retire in New Braunfels Tx include friendly people, almost endless dining choices, and proximity to both Austin and San Antonio.
New Braunfels Cost of Living
The cost of living in New Braunfels is considered average for the state of Texas. As of March 31, 2020, Zillow reports that the median price of New Braunfels homes for sale is $286,995. The Four Rivers Association of Realtors reports a 3% increase in the median price of homes in New Braunfels in the past year.
Overall, Texas city has a tax climate that is advantageous for retirees. The website Great Retirement Spots is quoted as saying, "Texas is considered a friendly place when it comes to taxes and retirement. There is no state income tax, so all forms of retirement income escape taxation, and there is no inheritance or estate tax. Homeowners receive a $15,000 homestead exemption from property taxes, and people age 65 or older receive an additional $10,000 exemption from school taxes (and $3,000 from other taxes."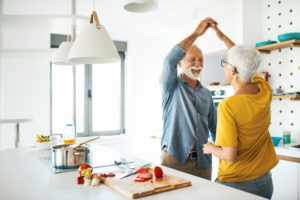 What to know about Retirement Living in New Braunfels, TX
Near the top of any list of "must haves" for retirees is access to good healthcare. New Braunfels definitely delivers!
CHRISTUS Santa Rosa New Braunfels was formed in 2008, when McKenna Hospital was purchased. Jim Wesson, Vice President and Administrator of the CHRISTUS Santa Rosa hospital, recently described a multi-year, multi-phase plan to create a CHRISTUS Santa Rosa medical center that will keep pace with New Braunfels' growing population. Wesson says plans for expansion include a variety of services, and may include a CHRISTUS Santa Rose New Braunfels ER, a CHRISTUS Santa Rose New Braunfels surgery center, and a CHRISTUS Santa Rose New Braunfels birthing center.
Another of the choices for medical care in New Braunfels is Hill Country Medical Associates, the largest provider family medicine in Comal County. HCMA has two convenient locations and have been serving the community since 1995.
HCMA staff includes nine board-certified physicians, three nurse practitioners and three physician assistants, with a combined 150 years of medical practice experience in providing comprehensive family-focused care. HCMA offers a wide array of medical services for patients of all ages, including allergy skin testing, pulmonary function tests, bone density scans and anti-coagulation therapy.
While you'll definitely have access to top-level medical care right in the community, larger facilities are less than an hour's drive away in both San Antonio and Austin.
A Haven for Active Retirees
Retirees who want to make the most of their free time will love living in New Braunfels. From outdoor recreation to cultural activities, there are plenty of things to do.
Those who love boating, fishing, or just being near the water will enjoy living so close to Canyon Lake, with more than 80 miles of shoreline. And when you want a getaway close to home, there are several places to camp near Canyon Lake as well.
Golf enthusiasts will find plenty of challenging courses in the area, many with breathtaking Hill Country views. A few local golf courses are:
Landa Park Golf Course
Birdee's Golf Center and Driving Range
The Bandit Golf Club
Lakeside Golf Club
Starcke Park Golf Course
Do you love to play tennis? John Newcombe Tennis Academy offers adult tennis vacations that combine working on your backhand or net game with evening entertainment and karaoke!
If you love to be out in nature, you'll find plenty of opportunities to do so in New Braunfels. There are many hike and bike trails to explore, and many wind through wildlife habitat and natural areas.
Fun for the Kids and Grandkids, too!
One of the best things about being retired is having time to spend with family when they visit – and your family will love visiting New Braunfels.
Schlitterban Waterpark is fun for kids of all ages, with thrilling rides, lazy rivers, and plenty of areas to take a break from the action with a picnic. There are also tons of fun activities in Landa Park, including paddle boats, playgrounds and miniature golf.
The beautiful amenities at Meyer Ranch in New Braunfels make it one of the best places to retire in the Texas Hill country.
The Community Green features an amphitheater and pavilion for concerts, farmer's markets, movies and other community events. The Meyer Ranch House is a spacious clubhouse with a resort-style pool and splash pad. Large sports & recreation fields nearby offer plenty of places to play.
Amenities slated for future phases of Meyer Ranch include three parks: Hilltop Park, Homestead Park, and Vista Point Park. Hilltop Park overlooks Meyer Ranch with natural areas for butterfly gardens, picnics, yoga, walking trails and stargazing. Homestead Park features a wildflower meadow and camping area for residents near the original historic Heimer House. Vista Point Park offers commanding views of the Texas Hill Country as well as places for barbecues, community dining, fire pits and wildlife viewing.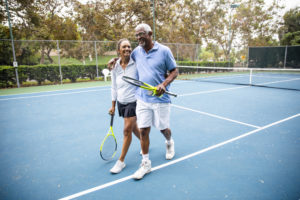 Love to Travel? New Braunfels is a great home base!
If you're the type who plans to travel in retirement, you'll love living in New Braunfels. San Antonio International Airport is 25 miles away – and Austin-Bergstrom International Airport is about 45 miles away. Between the two, it will be easy for you to explore the country and the world!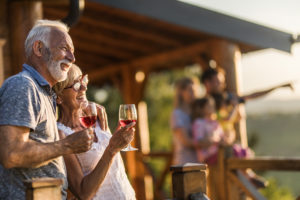 New Braunfels and Meyer Ranch is the perfect choice for retirees!
We think we've answered your question, "Is New Braunfels a good place to retire?" The natural beauty of the area, excellent healthcare, and an abundance of activities guarantee you'll have an enjoyable retirement in this charming Texas town.
We invite you to get to know the seven builders who were hand-selected to be part of Meyer Ranch. Model homes are open by appointment, or you can take a virtual tour if you prefer. We have quick move-in New Braunfels homes for sale, or you can start with a floor plan you love and build the home of your dreams. At Meyer Ranch in New Braunfels, anything is possible!
For more information on our builders, give us a call at 830-213-7397