Take a New Braunfels new home virtual tour!
Builders at Meyer Ranch are offering several options for home buyers who are looking for a New Braunfels new home virtual tour.  No need to put your search for the perfect home on hold – we've made it safe and convenient for you to get to know our builders, see our homes, and continue on your home buying journey.
New model home virtual tours by our builders
Here's a quick guide to the Meyer Ranch virtual tours of homes online, broken down by builder.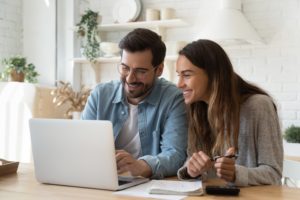 More than just a builder, Ashton Woods is blazing new trails in design, personalization and possibilities to reflect the unique people who live in their homes. The result is a more collaborative and empowering experience that pushes the boundaries of what's possible in homebuilding.
Ashton Woods offers virtual tours of their Bandera model home, their Blanco model home, and the Laredo floor plan.
As one of the premier homebuilders in San Antonio, Bella Vista works hard to offer every family the architectural style, modern convenience and affordability they deserve. Their elegant designs and meticulous attention to craftsmanship ensure your satisfaction and enhance the value of your investment. Count on the experts at Bella Vista to work within your price range to deliver a home perfectly suited to your family's lifestyle.
Gehan Homes are designed for your life, with personalized options and stylish features tailored to meet your individual needs. Each home is also crafted to the highest standards of quality, backed by exceptional service every step of the way. It's the reason Gehan has not only won numerous industry awards, but why they've grown to become the 12th largest private builder in the U.S. And it's your assurance of a best-in-class home you will be proud to call your own.
Buying a home is a decision that can last you a lifetime. Choose a home built with quality materials and expert craftsmanship designed to meet your needs. JuEll Custom Homes works directly with you, one-on-one, to hit timeline and quality goals.
JuEll Homes offers virtual tours of its model home and two of its inventory homes online.
Priced from the mid $200s, TRIPointe Homes are thoughtfully designed and built with you in mind. We include fresh, modern looks and custom touches like open kitchens, plenty of space for all your needs and cutting-edge technology from Living Smart®.
TRIPointe Homes offers virtual tours of two of its model homes: The Guadalupe and The Trinity.
There's a reason Highland Homes has been dedicated to building beautiful, high-quality homes for Texas families since 1985. After all, the employees own 100% of the company. From your sales counselor to your builder to your warranty manager, you're working directly with a stakeholder. As the state's largest private homebuilder, Highland is committed to your complete satisfaction. It's the only business that matters.
Princeton Classic Homes has a long track record for quality construction and customer satisfaction that stretches all the way back to 1991. In addition to backing their homes with an exceptional HOME of Texas Warranty Program, they operate their own mortgage and title companies as a convenience to buyers. When you're ready to move up to Princeton Classic Homes, their team will work hard to make sure you're always happy with your decision.
Meet our newest builder added to Phase II of Meyer Ranch
We're excited to announce that we have a new builder joining us for Phase II of Meyer Ranch!
At Chesmar Homes, building dream homes in vibrant communities is our passion. We consider all homeowners members of our extended family and treat everyone like family. We are simply neighbors building homes for neighbors, while providing an outstanding buying experience.
Visit Meyer Ranch and meet our builders!
As you can see, there are a variety of ways to find and tour New Braunfels homes for sale at Meyer Ranch. Prefer an onsite visit? Our model homes are open and we're taking precautions such as sanitizing and limiting the number of visitors. Contact our office, or the builder you're interested in, to schedule an in-person tour.
To tour Meyer Ranch and visit our builders' model homes, call us at 830-213-7393 or visit us at 9666 W. Hwy 46, New Braunfels, TX, 78132.