Frequently Asked Questions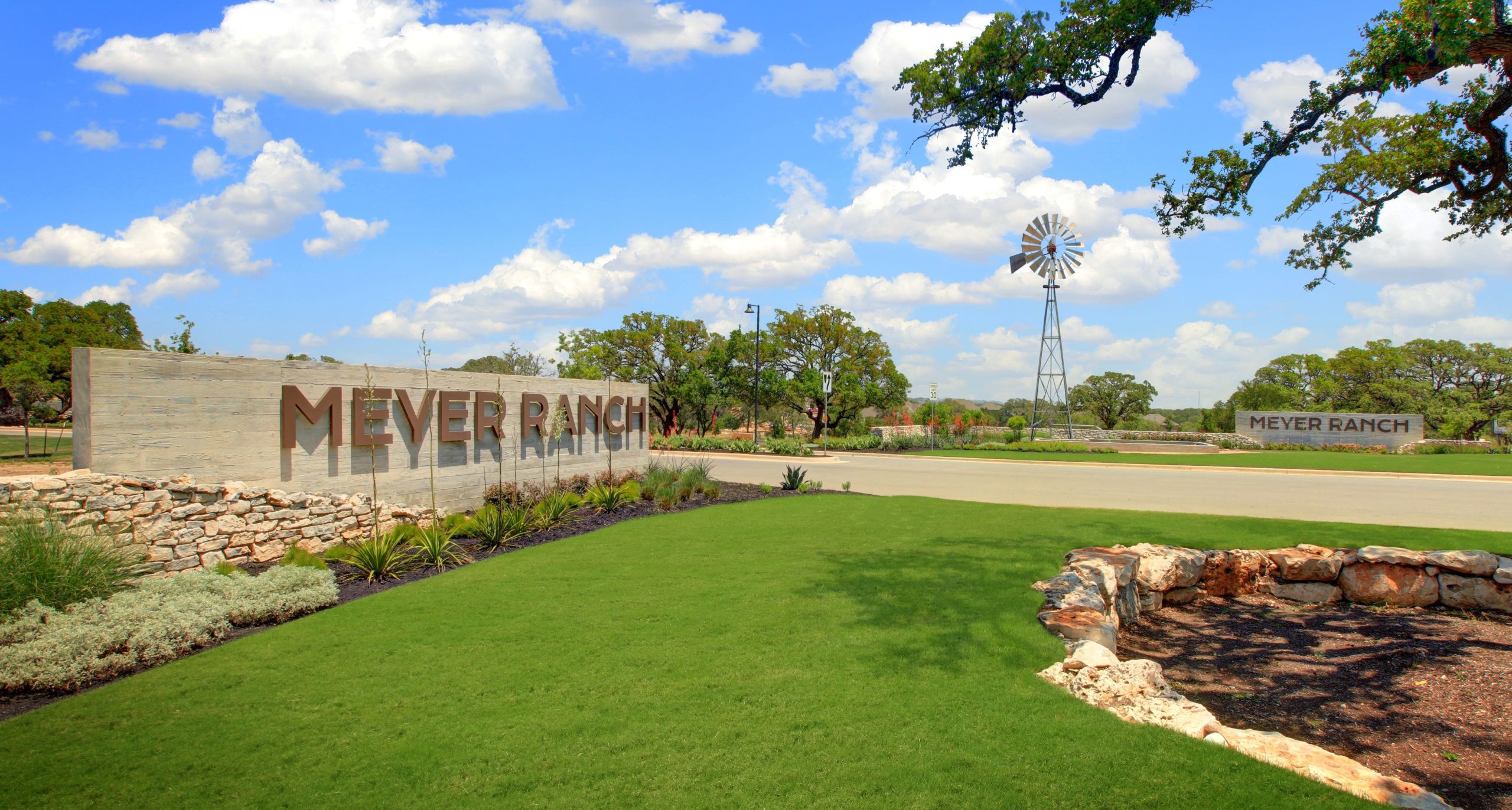 Meyer Ranch was born from a simple idea: create a community centered around the notion that life doesn't have to be so complicated. The developers of the community believed it was possible to develop a warm, welcoming place where it would be easy for people to get to know one another – just the way it used to be. Meyer Ranch is the realization of that dream.
If you're looking for homes in Comal County, we invite you to explore Meyer Ranch – a truly unique community rich in history and poised for a brilliant future. We're providing answers to some of the most frequently asked questions about the community and its new homes for sale in Comal county in this FAQ.
Q. Where is Meyer Ranch located?
A. Meyer Ranch is located just off Highway 46, minutes from New Braunfels – one of the fastest-growing cities in the entire country. Known for its natural beauty, unique festivals, and small-town charm, it's no wonder the secret's out about this Hill Country community.
Meyer Ranch, a new neighborhood in Comal county, is less than an hour from San Antonio and just 90 minutes from Austin. Both cities have their own distinct personalities and world-class cultural, dining, and entertainment options. Austin is renowned for its diverse live music scene and trendy dining options. San Antonio is one of the most loved cities in the nation, offering professional sporting events, rich culture and history, and the world-famous Riverwalk.
Meyer Ranch is also conveniently close to Canyon Lake, a popular destination with local residents and an ideal place for swimming, boating, camping, fishing, and water sports.
There's always plenty to do when you make your home at this new residential development in Comal county. Take the family to one of nation's best waterparks, or spend the day rafting, tubing, and kayaking down the local rivers. Kick up your heels at an old-time dance hall, take in a festival and explore a cavern. You're sure to work up an appetite or a thirst, but not to worry. There's plenty of hearty German food and local wineries and breweries to be enjoyed.
Q. What homes are available now?
A. There are currently homes available for immediate move-in at Meyer Ranch, one of the new subdivisions in Comal county. There are also several homes under construction that will be available in the next few months.
Here's a look at the homes currently available at Meyer Ranch. Prices and availability are subject to change. If you see a home you're interested in, please contact one of our sales counselors for more information.
Q. What builders are available at Meyer Ranch?
A. We've personally chosen the very best builders to create Meyer Ranch's new homes for sale in Comal county. Here's a quick overview of our seven outstanding builders.
• Bella Vista Homes 
As one of the premier homebuilders in San Antonio, Bella Vista works hard to offer every family the architectural style, modern convenience and affordability they deserve. Their elegant designs and meticulous attention to craftsmanship ensure your satisfaction and enhances the value of your investment. Count on the experts at Bella Vista to work within your price range to deliver a home perfectly suited to your family's lifestyle.
• Gehan Homes 
Gehan Homes are designed for your life, with personalized options and stylish features tailored to meet your individual needs. Each home is also crafted to the highest standards of quality, backed by exceptional service every step of the way. It's the reason Gehan has not only won numerous industry awards, but why they've grown to become the 12th largest private builder in the U.S. It's your assurance of a best-in-class home you will be proud to call your own.
• Highland Homes 
There's a reason Highland Homes has been dedicated to building beautiful, high-quality homes for Texas families since 1985. After all, the employees own 100% of the company. From your sales counselor to your builder to your warranty manager, you're working directly with a stakeholder. As the state's largest private homebuilder, Highland is committed to your complete satisfaction. It's the only business that matters.
• Juell Custom Homes
Build your Dream. Quality you can trust. Friendliness you deserve. Buying a home is a decision that can last you a lifetime. Choose a home created with quality materials and expert craftsmanship, built to your needs. At Juell Custom Homes we work directly with you, one-on-one, to fit your timeline and quality goals. Our homes are built for you. Build with us and experience the best.
• Princeton Classic Homes 
Princeton Classic Homes has a long track record for quality construction and customer satisfaction that stretches all the way back to 1991. In addition to backing their homes with an exceptional HOME of Texas Warranty Program, they operate their own mortgage and title companies as a convenience to buyers. When you're ready to move up to Princeton Classic Homes, their team will work hard to make sure you're always happy with your decision.
• Tri Pointe Homes 
Our thoughtfully designed homes are built with you in mind, with a fresh, modern look and custom touches like open kitchens, plenty of space for all your needs and cutting-edge technology from Living Smart®. And when it comes to the home buying process, Tri Pointe's experts are here to help guide you every step of the way, turning your dream lifestyle into reality sooner than you thought possible.
Meyer Ranch Sitemap Phase 1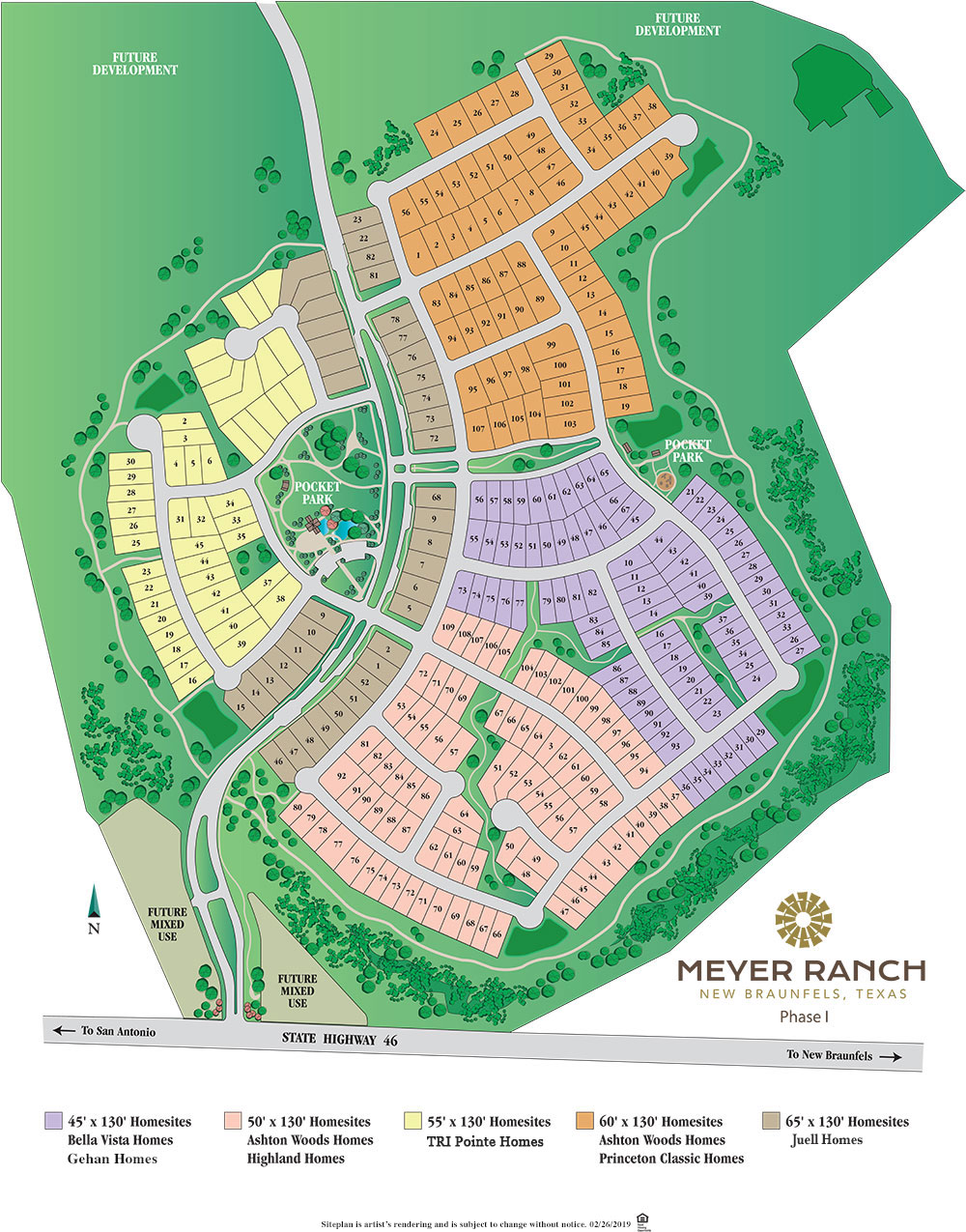 Q. How soon can I move into my new construction home in Meyer Ranch?
A. We have homes available for immediate move-in, as well as homes that will be ready in the next two months. For to-be-built homes, the timeline for completion depends on several factors – not the least of which is the weather.
Q. What amenities does Meyer Ranch offer?
A. The amenities at Meyer Ranch are designed to help you savor the simple pleasures of life. Amenities planned for this new neighborhood in Comal county are listed below.
• The Community Green with an amphitheater and pavilion.
• The Haus, featuring a fitness center and resort-style pool with splash pad. Large sports and recreation fields will be located nearby.
• Hilltop Park with space for butterfly gardens, picnics, yoga, and relaxing under the Texas skies.
• Homestead Park, with a wildflower meadow and camping area.
• Vista Point Park with views of the Hill Country, as well as areas for barbecuing, firepits, community dining, and wildlife viewing.
Q. Are there any parks or trails near Meyer Ranch?
A. New Braunfels is home to a variety of parks and trails. Some of the more popular parks include Landa Park, with a variety of activities to choose from; Hinman Island Park, Fischer Park, Prince Solms Park, and Cypress Bend Park. For trails, try the Alazan Creek Greenway Trail, Ann and Roy Butler Hike and Bike Trail, and Apache Creek Greenway.
Q. Is Meyer Ranch a good place to retire?
Meyer Ranch is an excellent place to retire for many reasons, starting with its location near New Braunfels. New Braunfels was recently named as offering the best lifestyle for the money for senior citizens in central Texas by topretirements.com.
Meyer Ranch is perfectly located near excellent medical care, from family physicians to advanced specialties. For seniors who like to be active, Meyer Ranch has a variety of amenities to choose from right within the community. Gather with friends and neighbors on the Community Green for concerts on the event lawn, wine parties in The Hall, or movie nights under the stars. The Dog Park is a treat for you and your furry family members, with a large fenced-in area where they can run and a seating area where you can relax. Sneak away for some quiet time or join a friend for a walk on our Trail System, which includes both natural and man-made trails. The Haus is the heart of Meyer Ranch, with a fitness center, swimming pools, splash pad, and more. Coming in 2022.
There are also an endless variety of activities and attractions just a short drive from Meyer Ranch. Read this article and get inspired! 
Q. What are some things to do around New Braunfels and Comal County?
A. There are endless things to do in the area, starting with exploring the natural beauty of the Hill Country. Canyon Lake is a popular spot for all types of water sports, fishing and boating. The rivers nearby are perfect for tubing or rafting.
The best waterpark in the world, Schilitterbahn, is a short drive from Meyer Ranch, sure to delight kids of all ages.
Q. Does Meyer Ranch have any community events?
Meyer Ranch is all about community. We hold community events on a regular basis, such as bringing in food trucks, concerts, and holiday- themed celebrations. Check out
this article
on our Grand Opening Carnival!
Q. What are the future plans for Meyer Ranch?
A. We're just getting started at Meyer Ranch and have so many exciting things planned for our residents!
We're breaking ground on The Haus, our new amenity center, in early 2021. The Haus will include a fitness center, beautiful swimming pool,  splash pad and more. Completion of The Haus is tentatively scheduled for 2022.
Another exciting event slated for early 2021 is completion of a new model home by one of our new builders, Chesmar Homes. Stay tuned for more information as the opening date draws near.
New lots will be available in 2021, and we'll also be breaking ground on a 2nd entry to the community off S. Cranes Mill Road.
And while we don't have a date set, there are plans for a section of condominiums to be added in Phase 2. The condos will be located next to The Haus.
The next step is to visit Meyer Ranch and see everything it has to offer. Please contact us to arrange an exclusive tour, see our model homes and meet our builders.